CLAS media (e.g., videos, audio, images, and PDFs) can be embedded anywhere in Canvas if:
You are an instructor or TA in the Canvas course
The media file is already uploaded to CLAS, since you cannot upload media to CLAS from Canvas using the plugin
The Rich Content Editor is available in the Canvas section
Embedding Media from CLAS into Canvas
1. From any Rich Content Editor in Canvas, click the plugin icon and select Embed CLAS Media, or select the C icon next to it.
2. Search for CLAS media by:
A. typing search terms into the search bar
B. filtering by media type (click the checkbox next to the media type you would like to filter for)
C. sorting by creation date or alphabetical title (click the dropdown button to select between the options).
3. Click Embed next to the selected media.
Embed Options
To ensure the embedded media includes a link to the CLAS page, click the checkbox next to Embed with link to "Discuss or annotate on CLAS."
To ensure media is embedded as an audio only player, click the checkbox next to Embed as audio only. You can either set maximum number of plays OR set a start and end time:
To limit the number of plays allowed on videos or audio, select the radio button next to Set maximum number of plays.

Enter a number into the field next to Maximum number of plays allowed. Otherwise, plays are unlimited.
 You can set a time limit before the maximum plays allowed reset by entering the hours/minutes/seconds.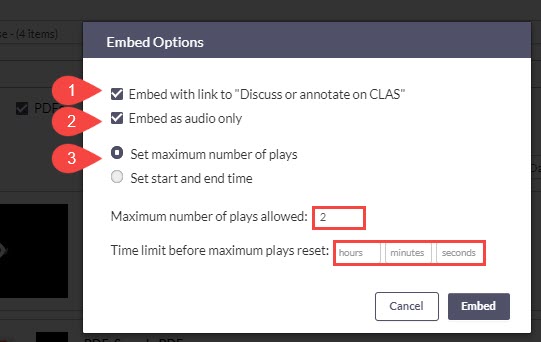 To set a start and/or end time, select the radio button next to Set start and end time and enter the hours/minutes/seconds in the fields next to Start at and End at.
Click Embed to apply the Embed Options.