PDF annotations are a combination of a markup drawing and a comment. You can attach text, video or audio to the comment.
PDF Annotation Interface
When viewing a PDF, toolbars will appear at the top and bottom of the document. The function of each button is outlined below.
Sidebar toggle – Open a panel that shows thumbnails of each page
Search – Look for keywords
Navigate pages – Use the arrows to jump between pages, or enter a page number
Zoom – Use the [–] or [+] buttons to zoom, or select a zoom preset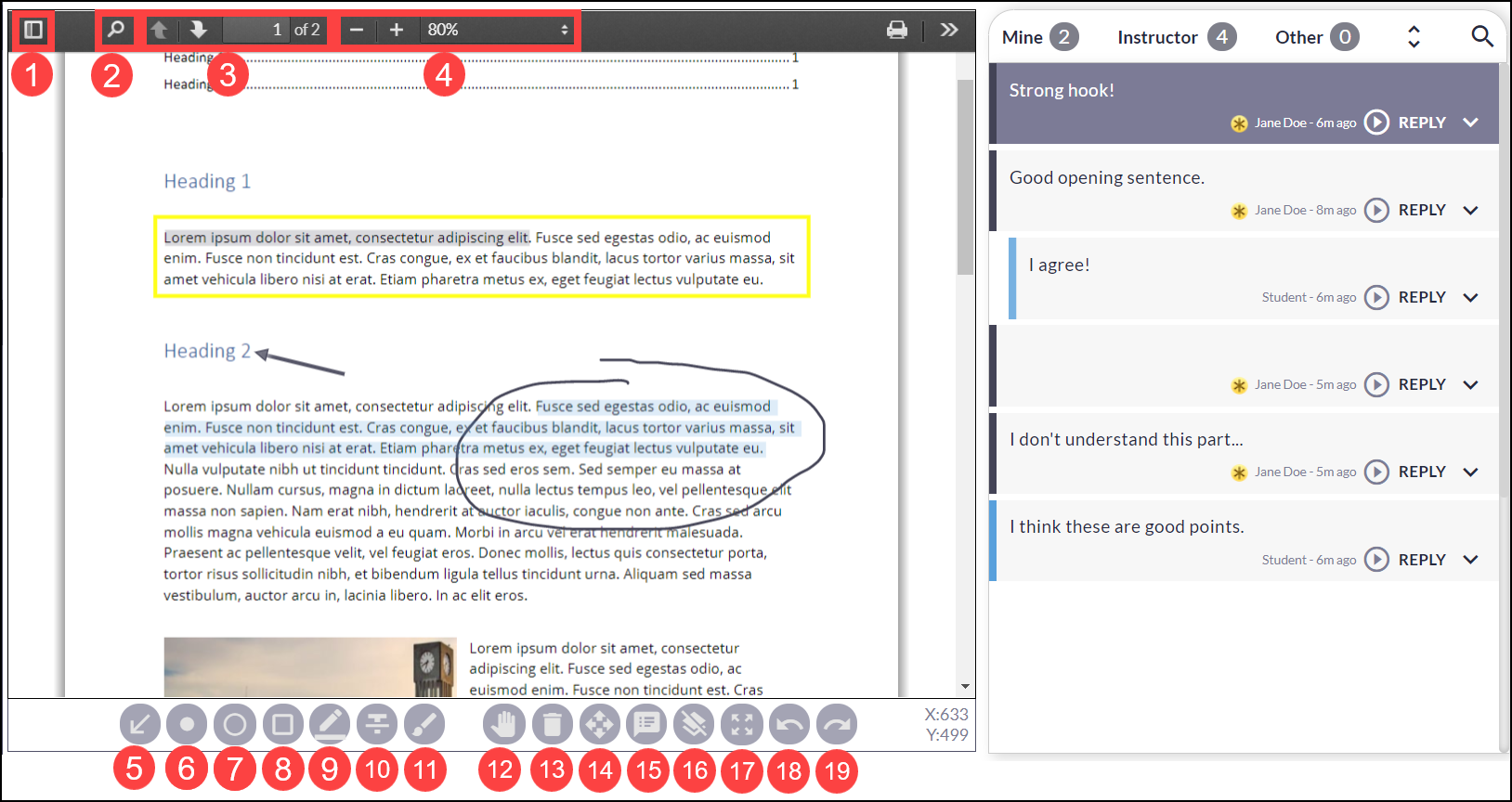 Arrow – Draw an arrow annotation
Dot – Draw a dot annotation
Circle – Draw a circle annotation
Rectangle – Draw a rectangle annotation
Highlight – Highlight text
Strikethrough – Cross out text
Free hand drawing –  Draw any design
Pan – Hover cursor over a drawing to jump to
the comment, or drag the PDF page to navigate
Trash – Click on a drawing to delete it
Move – Click to move or resize a drawing
Toggle text – Hide (or show) text attached to drawings
Toggle drawings & text – Hide (or show) all annotations
Fullscreen – Expand the PDF to fill the screen
Undo – Discard your most recent change
Redo – Bring back your most recent change
Add an Annotation
Click on one of the buttons 5 to 11 (see descriptions above). Then select an area on the PDF to add a drawing. A new comment box will pop up after a selection has been made. Decide on the type of annotation you want to add:
Reply to an Annotation
To reply to an annotation, click on the Reply located beside each annotation. A text box will appear for you to reply with text, audio, or video.